Industrial Painting Contractors in St. Catharines, Ontario
With services offered in the St. Catharines, Ontario area, Induspray is a company that specializes in industrial painting. Induspray is a professional painting contractor company and uses experienced crews that focus on the restoration, painting, and cleaning of older commercial and industrial building spaces. Our services have given a facelift to the interior and exteriors of numerous factories, manufacturing plants, commercial buildings, industrial buildings and warehouses. We pride ourselves in taking on the biggest projects, and accept the restoring of older, unsound, and heavily-soiled facilities as a challenge. The dirtier, greasier and more worn out, the better! We also offer expert spray painting of fluted metal decks.
Industrial painting and restoration projects:
industrial buildings – all kinds
factories, manufacturing plants
secondary containment tanks
smoke stacks, high-heat stacks
silos, storage tanks
machinery, manufacturing equipment
refineries, chemical processing plants
steel structures, bridges, cranes
water & sewage treatment plants
Commercial painting projects:
commercial buildings – all kinds
arenas, entertainment venues
warehouses, storage facilities
apartment/condo buildings
underground parking garages
Painting and refinishing of all surfaces:
corrugated metal deck ceilings, ceilings,
walls, concrete & cinder block walls
metal/steel buildings, structural steel
epoxy floor coatings , epoxy floors
concrete floors, floor lines & markings
aluminum siding, metal/steel siding
roofs, metal/steel roofs
metal window frames, flashing
PHOTO GALLERY

Painting & Surface Preparation Techniques
A good clean, solid surface underneath an area that is to be painted is always required, and hence it should be properly prepared. Suitable surface prep must be utilized in order for the paint and coating to appropriately stick to the surface. If this is not completed, the job will surely fail over time and will require being done over which can increase the overall project costs in order to fix it. Induspray strongly believes the job should be done right the first time, and takes the necessary steps in order to make sure that surfaces are ready for any painting or coating. A number of techniques are utilized, depending upon the situation, to properly prepare the surface for the coating stage. Some of the methods used include: mechanically shotblasting surfaces, solvent cleaning, hot water washing, steam cleaning, CO2 cleaning, abrasion, aggregate blasting, high-pressure water washing, and others.
Induspray's team of professionally-trained and skilled painters all have the expertise needed in order to apply coatings properly. One of the methods that they are especially knowledgeable in is industrial-level airless spray painting. Depending upon each project scenario, the painting techniques are carefully planned in order to produce optimum results. As industrial painting professionals, we perform painting work in the St. Catharines area in many industrial sites which may include interiors that have areas that are difficult to reach or exteriors which are high. Induspray's painting crews utilize appropriate lifts, booms and other access equipment in order to safely and effectively complete our painting projects.
Industrial Coating & Paint Systems
High-performance coatings and paint are all that we use at Induspray, and we have a wide array to select from. We determine which is best for each job based upon its expected lifespan, the local environmental conditions, and the customer's budget. Upon analysis of the project, we choose from a variety of types to use including: alkyd coatings, latex coatings, epoxies, urethanes, enamels, polyurethanes, high-adhesion coatings, LEEDS-certified coatings, rust-inhibiting coatings, quick dry paints, and slip resistant coatings. We choose the paint system for the job that will have the best performance, while also being cost-effective. We carefully analyze the situation further for exterior projects which must stand up to the sometimes harsh climate and weather in the St. Catharines area.
VIDEO: INDUSTRIAL PAINTING DEMONSTRATION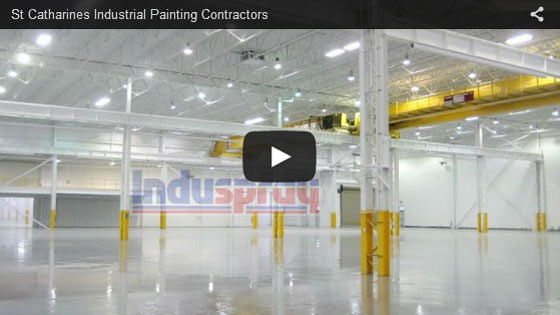 St. Catharines Industrial Painters / Commercial Painters
Induspray is leading the way for commercial and industrial painting contractors in St. Catharines, Ontario. Since 1975, Induspray has employed the best industrial painters in the business to tackle all types of painting projects across Southern Ontario. Induspray's keen project administrators, highly capable painters, and outstanding suppliers ensure your project is finished properly, on time, and within budget.
Our Client List for St. Catharines, Ontario
Proof of our work reputation is reflected in our happy clients, thanks to our standing in the industry and fair cost estimates. Induspray continues to complete a number of commercial painting projects in and near St. Catharines. Work sites include, but are not limited to: storage facilities, warehouses, factories, silos, manufacturing plants, storage tanks, industrial buildings, and more. Induspray can provide you with local references as needed. Past local clients include:
General Motors
Dana
Lakeside Steel
TRW
Industrial Painting Prices & Costs
Induspray completes over a million square feet of industrial painting each year, and this requires a lot of paint and other materials. Because our suppliers know we purchase large amounts of paint, we receive a discount for high-volume purchases. Typically a project's greatest expense is supplies. We care about our customers, and it shows by us passing on much of the savings to you.
Your painting project deserves to be completed by the best industrial/commercial painters in St. Catharines. If you are comparing prices and choices, we'd be glad to assist you. An Induspray representative will carefully examine and consider your project needs, and additionally schedule a jobsite appointment if required. Induspray will then use our professional judgment and experience to prepare a proposal with an optimized price estimate and options that are custom-fit to your unique painting needs. Free estimates are included as part of our services, so why not give us a call today?
ST. CATHARINES, ONTARIO SERVICE AREA
Our local St. Catharines service area includes Greater St. Catharines plus nearby Beamsville, Grimsby, Jordan, Niagara-on-the-Lake and Thorold located in the Niagara Region, Ontario.
"We are most impressed by your recent work repainting our warehouse and production space. The entire job went smoothly, and we are highly pleased with the end result. Not only is our facility cleaner and brighter, but it's now safer."
"Induspray just finished spray painting all the ceilings and walls in our St. Catharines facility. The project was finished in a timely and efficient manner. We are pleased to recommend them for their quality of work, professional attitude and cost-effective pricing."
"It's refreshing to see a painting contractor company that actually shows up on time. From our initial phone consult to your site visit with me, I felt that you not only knew what you were talking about, but also cared about our needs and completing the project on time. That's exactly what happened, and you clearly delivered on all counts. Many thanks to your entire team for a job well done."
Painters in St. Catharines, Ontario
St. Catharines ON is located south of Toronto just across Lake Ontario in Southern Ontario and near to the Welland Canal. It has a diverse population of approximately 140,000 and is home to numerous businesses and industries, including light and heavy manufacturing companies. The area is serviced by several industrial painting contractors.