Industrial Painting Company in Brampton, Ontario
If you have a factory, manufacturing plant, warehouse, storage facility, or commercial or industrial building that needs a major interior or exterior overhaul or restoration, you need a specialized painting company able to give you that type of service. Induspray is a contractor offering industrial painting services throughout the Brampton, Ontario area and as a crew of skilled painters, we are expert at what we do. Induspray has a complete team that can work safely and take on larger tasks confidently. Regardless of whether the facility needs repainting or coating on the exterior or interior, Induspray can handle it no problem. We focus on preparing industrial buildings plus old and contaminated facilities for painting, and see all projects as a challenge to meet. We also specialize in the high-volume spray painting of corrugated galvanized metal ceilings.
Industrial painting and restoration projects:
manufacturing plants, factories
silos, storage tanks
industrial buildings – all types
chemical processing plants, refineries
bridges, cranes, steel structures
water & sewage treatment plants
secondary containment tanks
smoke stacks, high-heat stacks
manufacturing equipment, machines
Commercial painting projects:
underground parking garages
commercial buildings – all types
arenas, entertainment venues
warehouses, storage facilities
apartment/condominium buildings
Painting and refinishing of all surfaces:
epoxy floors, epoxy floor coatings
metal deck ceilings , ceilings
roofs, metal/steel roofs
flashing, window frames
walls, concrete & cinder block walls
metal buildings, structural steel
aluminum siding, metal/steel siding
PHOTO GALLERY

Surface Preparation & Painting Techniques
Induspray commercial painting knows that perhaps the most important part of a project is the surface adhesion. In order to ensure that we meet the industry's best practices, a solid, clean, and smooth surface must make up the base before applying paint coatings. After all, your industrial painting result should not have to be re-evaluated and redone later on. When our jobs are done right the first time, this prevents the cost of having to redo the project. The original surface will be the best surface possible for paint coating adhesion. A proper, smooth paint finish starts at the surface. Our experienced contractors realize this and use the following skills and methods to ensure perfection: steam cleaning, power or pressure washing, micro abrasion, chemical cleaning, sandblasting, ice blasting, shot blasting, and many others depending on the situation.
Several skills are used by our employees to coat your project's surface with premium paint. Techniques used by our paint professionals include airless spray painting. We guarantee the best bond for your surface and minimize corrective costs that would otherwise upset your project budget. Every project is individually analyzed to determine the correct and optimum application procedures. Let our reputable contractors in Brampton or the Southern Ontario area serve you for your industrial painting needs. Covering most exteriors that are higher up is also included in our services. Our employees are trained to use lifts, granting free range access to hard-to-reach places. Because we are licensed, you will have peace of mind knowing that your project will be completed properly, promptly and safely.
Industrial Paint & Coating Systems
There are a wide variety of coatings available to us in our paint and coating arsenal. Ultimately, though, there is only one that is the best for your appropriate environment and budget. Induspray provides high rates of customer satisfaction by minimizing expenses, lengthening the life of your paint coating, and using only the best solution for your work site. Directly appropriate to the site which needs to be refinished, correct coating solutions may include oil-based or latex paints, epoxies, enamels, high-adhesion coatings, dryfall paints, non-slip, low VOC (low-emissions) coatings, urethanes, polyurethanes, and any others which may be necessary. Only the best will do at Induspray because we correctly match the coating to be used according to the type of surface. We pay attention to any climatic weather which could delay the project and also work in a way that helps to ensure projects in Brampton and Southern Ontario are completed carefully and in a timely manner.
VIDEO: INDUSTRIAL PAINTING DEMONSTRATION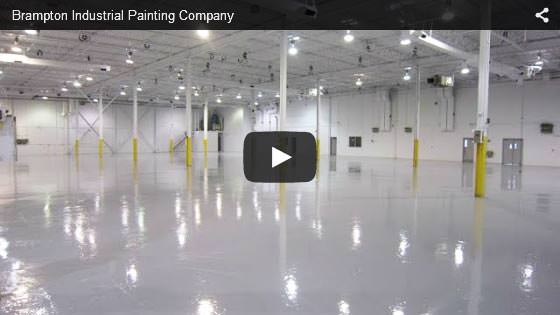 Brampton Industrial Painters / Commercial Painters
When searching for commercial painters and industrial paint contractors, Induspray is the ultimate choice serving the Brampton, Ontario area. For over 40 years, we've gained a lot of experience with industrial and commercial painting projects and can handle anything. We focus on having highly skilled crew members, project management that is efficient, and a group of partners and suppliers we have networked with, all to be sure that we provide optimal results in a timely manner.
Client List for Brampton, Ontario
Testimonials from prior clients who have been satisfied are proof that we offer prices that are reasonable and top-quality workmanship. Our company has completed a wide variety of painting projects within the Brampton area including warehouses, factories, manufacturing buildings, silos, storage tanks, industrial buildings, and more. We have the references to prove it and our client list of locals includes:
Chrysler
Magna International
Unilever
Coca Cola
Simmons Canada
Recochem
Sota Wall
Metro Logistics
Industrial Painting Pricing & Costs
We redo millions of square feet of painted and coated surfaces on an annual basis which results in the use of a large volume of supplies. Due to Induspray purchasing these products in mass quantities, we are able to pass the savings on to our customers. While the cost of materials is usually a large expense to our customers, we are able to offer top quality paints and coating systems thanks to our purchasing power, resulting in a lower cost to do the entire project.
When researching industrial painting companies for an upcoming painting project you might have in Brampton, you will want to look at all options, including cost. We are more than happy to provide assistance by carefully assessing your needs, and arranging a personal on-site meeting if necessary. We then follow up with our specific professional recommendations and a cost estimate that will best accommodate your job requirements. This estimate is free of charge and we hope that you allow Induspray to provide it.
BRAMPTON, ONTARIO SERVICE AREA
Our local Brampton service area includes Greater Brampton plus Bolton, Caledon, Erin, Georgetown, Halton Hills, Hammertown, Kleinburg and Orangeville located in the Peel Region, Ontario.
"Thank you for everything, we're very happy and our floor looks like new! Unfortunately it all looks so perfect that we're afraid to run the forklifts over it!"
"I'm definitely impressed by your recent work repainting our Brampton warehouse location. Everything about the job went smoothly, and we are highly pleased with the end result. Not only is our facility cleaner and brighter, but it makes it safer."
"Induspray did an outstanding job for our company. The painting and cleaning crews were friendly yet highly professional, and worked around our tight schedules to complete the job with minimal impact on our production. The value and quality of the work performed were exceptional, far better than I have experienced in the past on a similar project. All in all, it was a pleasure working with your company, and I give you an A+ rating overall."
Painters in Brampton, Ontario
Brampton ON is located northwest of Toronto in Southern Ontario. It has a diverse population of approximately 550,000 and is home to numerous businesses and industries, including manufacturing companies. The area is serviced by several painting contractors.