Industrial Painting Company in Cambridge, Ontario
As an industrial painting company, Induspray provides services to the Cambridge, Ontario area. We are contractors who specialize in professional painting as well as the restoration of factories, warehouses, manufacturing plants, industrial buildings, and commercial buildings. Induspray has the capability of painting both the inside as well as the outside of these buildings and are experts in the large jobs which require cleaning up older facilities which need a lot of deep cleaning. In addition we can also spray paint deck ceilings which are composed of metal or steel.
Industrial painting and restoration projects:
large industrial buildings
machinery, manufacturing equipment
manufacturing plants, factories
storage silos & tanks
chemical processing plants, refineries
steel structures, bridges, cranes
water & sewage treatment plants
high-heat stacks, smoke stacks
secondary containment tanks
Commercial painting projects:
large commercial buildings
warehouses, storage facilities
underground parking garages
entertainment venues, arenas
apartment/condo buildings
Painting and refinishing of all surfaces:
ceilings, metal deck ceilings
walls, concrete & cinder block walls
metal buildings, structural steel
epoxy floors, epoxy floor coatings
floor lines & markings, concrete floors
metal window frames, flashing
steel/metal siding, aluminum siding
roofs, metal/steel roofs
PHOTO GALLERY

Surface Preparation & Painting Techniques
Excellent surface preparation is imperative for a good paint job. If the surface is not solid or clean, then it hinders the ability for the coatings or paint to adhere correctly to it. This could result in increased expenses to have it done again to correct any problems. Induspray uses the proper techniques to prepare the surface so that it will work right the first time. The techniques Induspray feels are the best to do surface prep include: high pressure and hot water washing, degreasing, abrasive blasting, cryogenic cleaning, shot blasting, and several others which have proven effective in the field.
Our crews of professional contracted painters are skillfully trained in utilizing all different methods of applying coatings such as airless spray painting, rolling and more. Each specific situation is carefully analyzed in order to choose the optimal painting technique for the best outcome. These professionals work in the Cambridge area in numerous industrial scenarios, which may include the coating or painting of exteriors that are high up or interiors that are hard to access. The painters also utilize various aerial work platforms to access all areas within these facilities and to complete site jobs properly and with safety in mind.
Industrial Paint & Coating Systems
High-performance coatings are utilized by Induspray and there is a large array to select from, with each calling for a unique type of application. Induspray contracted painters also choose the selected coatings based on cost and the length of time for which it will hold up on the surfaces in question. Some products that might be used include: latex coatings, alkyd paints, epoxies, environmentally-friendly coatings, polyurethanes, urethanes, enamels, dryfog paints, high-adhesion coatings, and enhanced traction paints. Our professionals pair up the type of paint or coating needed in order to make sure that the job is completed ideally and within budget. We also take into account the extreme climate and weather in Cambridge and Southern Ontario when completing exterior projects and choosing materials.
VIDEO: INDUSTRIAL PAINTING DEMONSTRATION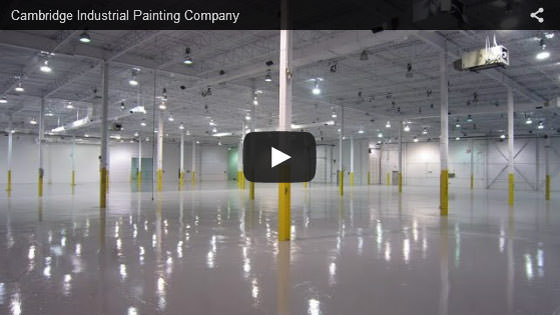 Cambridge Industrial Painters / Commercial Painters
In Cambridge, Ontario, if you're looking for the top commercial or industrial paint contractors, look no further than Induspray. Since 1975, we have accumulated a tremendous amount of experience that other industrial painters have not, and in a variety of different scenarios. Strong partnerships with suppliers and partners in the industry, skilled crews of expert painters, and efficient project managers all combine to ensure that every project we take on is done right the first time, safely, and within the estimated time frame.
Client List for Cambridge, Ontario
We have numerous local references that we can provide who have been pleased with our excellent work and great-value pricing. Within the Cambridge, Ontario, Induspray has completed a number of industrial and commercial painting projects including warehouses, factories, manufacturing plants, commercial and industrial buildings, storage silos and tanks, plus other worksites. A list of our local clients include:
AG Simpson
Babcock & Wilcox
Toyota
Precision Resource
Maple Leaf Foods
Lear Corp
Dana Canada
Industrial Painting Pricing & Costs
On an annual basis, we use vast quantities of paint, coatings, and other supplies while refinishing millions of square feet of surfaces on our various projects. Purchasing this paint and supplies on a high-volume basis allows us to obtain steeply discounted prices from the vendors. Since supplies usually represent a significant portion of job costs, we are able to pass these significant savings on to the clients who have entrusted us with their business.
If you have painting needs in Cambridge that Induspray can help you with, we hope that you will consider us. Upon reviewing and analyzing your requirements, we can provide the estimated costs and options available to you for your painting project, along with our valuable expert advice. A representative from Induspray can even come in person to your project site in order to make a more in-depth recommendation, if that is required. These services are always completely free, and you are under no obligation. Induspray looks forward to working with you to achieve your painting goals.
CAMBRIDGE, ONTARIO SERVICE AREA
Our local Cambridge service area includes Greater Cambridge plus Blair, Branchton, the City of Galt, Hespeler and Preston located in the Regional Municipality of Waterloo, Ontario.
"Our company contracted with Induspray Painting to prepare and repaint our large exterior storage tanks. The work was performed very well and we are highly satisfied with the end product. The cost was also the lowest of the several quotes we obtained."
"I would be delighted to recommend your firm to anyone looking for a painting company. Your efforts here at our Cambridge facility were top notch and the end result leaves no room for improvement. The work proceeded according to schedule and appeared to be conducted in a safe manner. The working area was left clean and organized each day and we were able to continue with our normal production with very little interference, as was promised. Overall, I am very pleased."
"A perfect project: well executed and no mess left behind. You are our new painting company of choice and can expect to hear back from us in the future."
Painters in Cambridge, Ontario
Cambridge ON is located west of Toronto in Southern Ontario. It has a population of approximately 135,000 and is home to numerous businesses, industries and manufacturing companies. The area is serviced by several painting contractors.