Industrial Painting Company in Toronto, Ontario
Induspray is an industrial painting company that services the Toronto, Ontario region. We are professional painting contractors specializing in painting and restoring industrial buildings, factories, manufacturing plants, commercial buildings and warehouses. We paint both interiors and exteriors, excelling at large jobs that involve old and dirty facilities requiring extensive cleaning, plus spray painting of metal deck ceilings.
Industrial painting and restoration projects:
industrial buildings
manufacturing plants, factories
silos, storage tanks
machinery, manufacturing equipment
chemical processing plants, refineries
steel structures, bridges, cranes
water & sewage treatment plants
secondary containment tanks
smoke stacks, high-heat stacks
Commercial painting projects:
commercial buildings
warehouses, storage facilities
underground parking garages
apartment/condominium buildings
arenas, entertainment venues
Painting and refinishing of all surfaces:
ceilings, metal deck ceilings
walls, concrete & cinder block walls
metal buildings, structural steel
epoxy floors, epoxy floor coatings
concrete floors, floor lines & markings
aluminum siding, metal/steel siding
roofs, metal/steel roofs
window frames, flashing
PHOTO GALLERY

Surface Preparation & Painting Techniques
A paint job is only as good as the underlying surface preparation. Without a solid, clean surface for paint and coatings to adhere to, the work will eventually fail, resulting in additional corrective costs that often exceed that of doing the job properly in the first place. At Induspray, we believe strongly in proper surface prep and use a variety of techniques including: power/pressure washing, steam cleaning, chemical cleaning, sand blasting (sandblasting), abrasion, dry ice blasting, shot blasting and more.
Our painters are trained and skilled in using all types of coating application techniques, including airless spray painting. The painting techniques used are always carefully chosen and optimized for each specific situation. As professional industrial painting contractors, we work throughout Toronto in most industrial situations, including high-rise exteriors and difficult-access interiors. Our crews use a range of aerial lifts to reach any area in your facility, allowing us to complete jobs safely and properly.
Industrial Paint & Coating Systems
We use a broad selection of high-performance coatings, each with a unique target application, lifespan and cost profile. Depending upon the situation, we might use: oil-based paints, latex paints, epoxies, high-adhesion coatings, urethanes, polyurethanes, enamels, rust-specifc coatings, dryfall paints, low-emissions (low VOC) coatings, non-slip coatings and others. We always match the coating system to the job for optimal performance and cost-effectiveness. For exterior projects, the extreme climatic conditions in Toronto and Southern Ontario are carefully taken into account.
VIDEO: INDUSTRIAL PAINTING DEMONSTRATION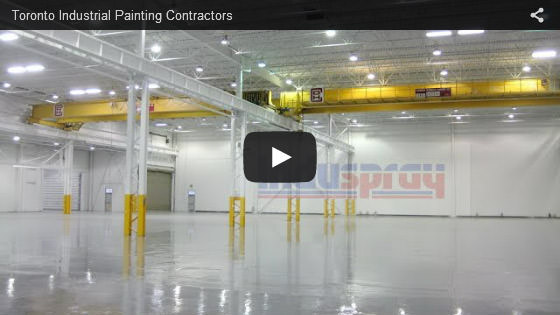 Toronto Industrial Painters / Commercial Painters
Induspray is the top choice for Toronto, Ontario industrial paint contractors and commercial painters. In business since 1975, we're highly experienced industrial painters that can handle any painting job. We use skilled painters, effective project management, and a strong network of partners and suppliers to make sure that every project is completed successfully and on schedule.
Client List for the Toronto Area
Our satisfied clients are a testament to the quality of our work and attractive pricing. Induspray has completed numerous industrial painting projects in the Toronto region — industrial buildings, warehouses, factories, manufacturing plants, storage tanks, silos and more — and we can gladly provide local references. Some of our local clients include:
Magna Automotive
DBG Automotive
Ford Electronics
Nestles
Schenker Distribution
Atlantic Packaging
Pepsi Co
Maple Leaf Foods
Bombardier
Imperial Oil
Ontario Power Generation
SNC Lavalin Inc
Aecon
+ hundreds more
Industrial Painting Pricing & Costs
Every year, we refinish millions of square feet of surfaces requiring large quantities of paint and coatings. This allows us to negotiate exceptional high-volume purchasing pricing with suppliers. Since the materials component of most jobs represents the majority of the cost, we're able to realize and pass on significant savings to our clients.
If you have a painting project in Toronto and are researching painting companies, the costs, and your options, we'd be happy to assist. Our representative will review and discuss your requirements, plus arrange for an on-site visit if needed. We'll follow up with an optimized cost estimate and expert recommendations tailored to your specific needs. There is no charge for this service and we look forward to hearing from you.
TORONTO, ONTARIO SERVICE AREA
Our local Toronto service area includes all of the Greater Toronto Area (GTA) including Mississauga, Scarborough, East York, Etobicoke, North York, the City of Toronto, Scarborough, and York in Ontario.
"In my opinion, it was a perfect painting project: skillfully executed and no mess left behind. Also, the price was right. Induspray is our new painting company of choice and you can expect to hear back from us in the future."
"This shall serve as a letter of endorsement for Induspray Painting. Over the past few years, they have successfully painted the interiors and exteriors of our facilities in Toronto, including two large buildings each with production areas and warehousing areas. They performed their work on time and have paid strong attention to the quality of the surface cleaning and preparation, plus the choice of paint and materials, and their application. The project manager, Mr. Andy Fitzpatrick is extremely knowledgeable, easy to deal with, and makes sure that all work runs smoothly. They also seem to have access to all the resources and equipment needed to complete the required tasks without incurring delays or extra charges. I would highly recommend this company."
"Thank you Andy, your entire crew did a fantastic job. Our newly painted ceiling has got to be the highlight, it has made a massive difference in the amount of light hitting out production lines, and has completely changed the feeling and visibility in the space. It's like being in a different plant. I was most impressed by how well your painters were able to pull this off while barely disrupting our production, and how they kept a neat and tidy job site. We would be more than happy to use you again when the time comes."
"Our company contracted with Induspray Inc. to restore several large steel silos that were in poor condition. The work was performed very well and we are highly satisfied with the end product. The tanks look like they could be new. The cost was also the lowest of the several quotes we obtained, so overall, we are very pleased and would use them again for future work."
"Regarding the recent painting of our manufacturing facility, we are pleased to be able to recommend Induspray Painters as preferred industrial painting firm. Ours was a large job with a many details and surfaces to deal with, but in the end, everything was handled beautifully with very few issues coming up. We are very satisfied with the end result, and would recommend Induspray to anyone in Toronto needing a reliable painting company."
Painters in Toronto, Ontario
Toronto ON is located in Southern Ontario and is the largest city in Canada. It is sometimes referred to as the Greater Toronto Area, or the GTA. It has a highly diverse population of approximately 2,750,000 and is home to many businesses and industries, including small and large companies, offices, heavy industry, factories, manufacturing plants, transportation distribution warehouses, plus technology firms. The GTA is serviced by several professional Toronto industrial painting contractors.