Industrial Painting Contractors in Ingersoll, Ontario
Induspray industrial painting company proudly services the area of Ingersoll, Ontario. Our services include large interior and exterior restoration, cleaning, and painting of working areas including numerous industrial-type buildings and warehouses. Our licensed contractors are able to complete the project on time and within budget, and we take on jobs of any size. We are specialized in the painting of Q decks and also are superior at the handling larger tasks which involve all-encompassing cleaning of dirt, grime, and restoration of old commercial buildings, warehouses, manufacturing plants, and other industrial buildings.
Industrial painting and restoration projects:
industrial buildings, factories
manufacturing plants, industrial facilities
machinery, manufacturing equipment
secondary containment tanks
smoke stacks, high-heat stacks
chemical processing plants, refineries
steel structures, bridges, cranes
sewage & water treatment plants
silos, storage tanks
Commercial painting projects:
commercial buildings
storage buildings, warehouses
arenas, entertainment venues
underground parking garages
condo/apartment buildings
Painting and refinishing of all surfaces:
walls, concrete & cinder block walls
metal deck ceilings, ceilings
roofs, metal/steel roofs
window frames, flashing
steel buildings, structural steel
aluminum siding, metal/steel siding
epoxy floors, epoxy floor coatings
concrete floors, floor lines & markings
PHOTO GALLERY

Surface Preparation & Painting Techniques
At Induspray, we want your industrial painting project to last as long as possible. Our experience indicates that a good, clean surface at the time of the application of paint ensures an optimal bonding surface for paint to apply to. Guesswork is taken out of the process by guaranteeing a clean well-adhering surface originating in the first coat of paint. We believe in doing it right the first time. Creating a smooth, clean surface may be achieved by sandblasting, power washing, micro abrasion, air blasting, and other advanced techniques.
Because our employees are trained in all forms of paint application methods, we can quickly give you the results you desire. Individual painting procedures are diligently decided upon to bring out the best results for your specific setting. Induspray's industrial painting contractors perform projects in Ingersoll and the surrounding area. Induspray offers industrial painting services to nearly all industrial site types, including high and difficult-to-reach places. Competence in using lifts allows us to complete any area that is up high in your work site and safety is taken very seriously by our team and we always ensure that a job is well done.
Industrial Paint & Coating Systems
Induspray implements various state-of-the-art paint coatings appropriate for your exclusive objective and to maximize the value. The best painting practices will always be utilized regardless of the scenario and we may use paints that are epoxies, latex, oil-based, high-adhesive, urethanes, polyurethanes, low emissions (low VOC), dryfall paints, rust-specific coatings, non-slip coatings, and many more. Induspray guarantees the correct technique will be applied to your project for the best adhesion and overall bang for your buck. Induspray completes exterior projects with proficiency and we carefully consider the extreme weather conditions in Ingersoll and southern Ontario. In addition, Induspray will complete your industrial painting project safely.
VIDEO: INDUSTRIAL PAINTING DEMONSTRATION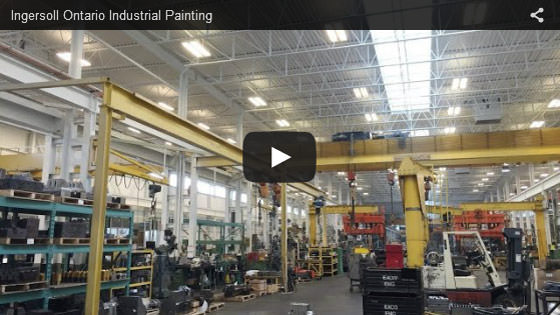 Ingersoll Industrial Painters / Commercial Painters
When searching for commercial painters and industrial paint contractors, Induspray is the ultimate choice serving the Ingersoll, Ontario region. For over 40 years, we have gained a lot of experience with industrial and commercial painting projects and can handle anything. We focus on having highly skilled crew members, project management that is efficient, and a group of partners and suppliers we have networked with, all to be sure that we provide optimal results in a timely manner.
Client List for Ingersoll, Ontario
Testimonials from prior clients who have been satisfied are our proof that we offer prices that are reasonable and top-quality workmanship. Our company has completed a wide variety of painting projects within the Ingersoll area including warehouses, factories, manufacturing buildings, silos, storage tanks, industrial buildings, and more. We have the references to prove it and our client list of locals includes:
Cami
Atlantic Packaging
Autrans
Industrial Painting Pricing & Costs
We redo millions of square feet of painted and coated surfaces on an annual basis which results in the use of a large volume of supplies. Due to Induspray purchasing these products in mass quantities, we are able to pass the savings on to our customers. While the cost of materials is usually a large expense to our customers, we are able to offer top quality paints and coating systems thanks to our purchasing power, resulting in a lower cost to do the entire project.
When researching industrial painting companies for an upcoming painting project you might have in Ingersoll, you will want to look at all options, including cost. We are more than happy to provide assistance by carefully assessing your needs, and arranging a personal on-site meeting if necessary. We then follow up with our specific professional recommendations and a cost estimate that will best accommodate your job requirements. This estimate is free of charge and we hope that you allow Induspray to earn your business.
INGERSOLL, ONTARIO SERVICE AREA
Our local Ingersoll service area includes Greater Ingersoll plus Norwich, Thamesford, Tillsonburg and Woodstock located in Oxford County, Ontario.
"Yes I would be happy to recommend Induspray to anyone that is looking for a reference in Ingersoll. Please have them e-mail me first, and I will make arrangements. It was a pleasure working with you, and perhaps we will meet again. Thank you Andrew."
"It's refreshing to see a painting contractor that actually shows up on time these days. From our initial phone consult to your site visit with me, I felt that you not only knew exactly what you were talking about, but also cared about our needs and getting the job done according to schedule. That's exactly what happened, and you definitely delivered on all counts."
"This is just a note of appreciation for the repainting work on our dip tank room ceiling. I cannot believe how effective the rust and dirt cleaning treatments were. The new paint looks superb and we could not be happier with the results. Thank you."
Painters in Ingersoll, Ontario
Ingersoll ON is located west of Woodstock and Toronto in Southern Ontario. It has a population of approximately 15,000 and is home to numerous businesses and industries. The area is serviced by several painting contractors.