Industrial Painting Contractors in Kingston, Ontario
With services offered in the Kingston, Ontario area, Induspray is a company that specializes in industrial painting. Induspray is a professional painting contractor and uses experienced crews that focus on the restoration, painting, and cleaning of older commercial and industrial building spaces. Our services are used to give a facelift to the interior and exteriors of factories, commercial buildings, manufacturing plants, industrial buildings and warehouses. We take pride in taking on the largest projects, and consider the restoring of older, unsound facilities to be a welcome challenge. The dirtier, greasier and more worn out, the better! We also offer expert spray painting of fluted metal/steel decks.
Industrial painting and restoration projects:
industrial buildings – all sizes
factories , manufacturing plants
secondary containment tanks
smoke stacks, high-heat stacks
silos, storage tanks
machinery, manufacturing equipment
refineries, chemical processing plants
steel structures, bridges, cranes
water & sewage treatment plants
Commercial painting projects:
commercial buildings – all sizes
arenas, entertainment venues
warehouses, storage facilities
apartment/condo buildings
underground parking garages
Painting and refinishing of all surfaces:
ceilings, metal deck ceilings
walls, concrete & cinder block walls
metal buildings, structural steel
epoxy floor coatings , epoxy floors
concrete floors, floor lines & markings
aluminum siding, metal/steel siding
roofs, metal/steel roofs
window frames, flashing
PHOTO GALLERY

Surface Preparation & Painting Techniques
A good clean, solid surface underneath an area that is to be painted is always required, and hence should be properly prepared. Suitable surface prep must be utilized in order for the paint and coating to appropriately stick to the surface. If this is not completed, the job will undoubtedly fail over time and will require being done over which can increase the overall project costs in order to fix it. Induspray strongly believes the job should be done right the first time, and takes the necessary steps in order to make sure the surface is ready for painting or coating. A number of techniques are utilized, depending upon the situation, to prepare the surface for the coating stage. Some of these methods include: hot water washing, high-pressure water washing, mechanically shotblasting surfaces, CO2 cleaning, abrasion, aggregate blasting, solvent cleaning and others.
Induspray's team of professionally-trained and skilled painters all have the expertise needed in order to apply coatings properly, and one of the methods that they are especially knowledgeable in is high-volume airless spray painting. Depending on each project scenario, painting techniques are carefully planned in order to provide optimum completion. As industrial painting professionals, we work in the Kingston in many industrial sites which may include interiors that have areas that are difficult to reach or exteriors which are high. Induspray's expert painting crews utilize appropriate access equipment in order to safely and effectively complete any painting or coating project within an industrial facility or at any job site.
Industrial Paint & Coating Systems
High-performance coatings and paints are all that we use at Induspray, and we have a wide array to select from. We determine which is best for each job based upon its length of wear and tear, the environmental conditions of area where it will be applied, and the budget of the customer. Upon analysis of the project, we choose from a variety of which type to use including: alkyd coatings, latex coatings, epoxies, urethanes, enamels, polyurethanes, high-adhesion coatings, LEEDS-certified coatings, rust-inhibiting coatings, quick dry paints, and slip resistant coatings. We choose the paint system for the job that will have the best performance, while also being cost effective. We carefully analyze the situation further for exterior projects which must stand up to the sometimes harsh climate and weather in Kingston and the Southern Ontario region.
VIDEO: INDUSTRIAL PAINTING DEMONSTRATION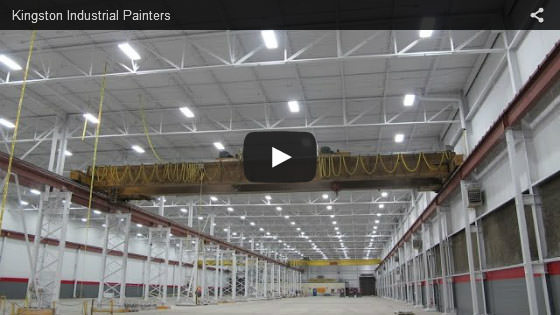 Kingston Industrial Painters / Commercial Painters
Induspray is a top industrial and commercial painting contractor, and we work on millions of square feet of surfaces on an annual basis throughout Ontario. Founded in 1975, we possess extensive industrial painting know-how, and are highly capable of fulfilling the requirements of your painting project. We attribute our success to having efficient project directors, proficient painters, and a robust network of partners and suppliers. Induspray ensures every project is done right, on time, and within the projected budget.
List of Clients for Kingston, Ontario
Over time, we have achieved a respectable reputation in the industry, and attribute it to our to excellent work combined with reasonable pricing. The proof is in the consistently positive tone of our clients' feedback. We have completed previous painting projects throughout the Kingston, ON area with work sites including: heavy or light industrial facilities, warehouses, storage tanks, factories, manufacturing plants, silos, commercial buildings, and more. We encourage you to look at our references. Our prior local client list includes:
Novelis
Bombardier
Weston Bakeries
Sunoco
Industrial Painting Prices & Costs
Induspray annually covers over a million square feet of surfaces. This requires countless gallons of paint and large quantities of associated supplies and raw materials. Because we buy direct and in such high volumes, we're able to drive our costs on materials down as low as possible. The greatest expense in most painting projects pertains to supplies and materials, so this is best place to achieve any significant cost savings and we are able to do so in a big way. The bulk of these savings are passed on and reflected in the cost of our clients' projects, leading to a positive situation all around.
If you are seeking an industrial painting contractor in Kingston, Ontario, and would like to research the costs and options to best suit your project, we can help. Our associates will evaluate your painting project and talk with you about your needs, and arrange to visit your job site as needed. We will provide a written price and options estimate, plus expert guidance according to your specific needs, all completely free of charge and obligation. Please contact us, we'd be happy to begin answering your questions today.
KINGSTON, ONTARIO SERVICE AREA
Our local Kingston service area includes Greater Kingston plus Belleville, Gananoque, Napanee, Odessa and Shannonville located in Frontenac County, Ontario.
"I can 100% recommend Induspray Inc. as a preferred painting company. We hired them to paint our entire manufacturing area of approximately 65,000 sqft, including the corrugated metal deck ceiling, piping and services, and epoxy floor. We were completey satisfied with the results."
"Thank you for everything, we're very happy and our epoxy floor looks like new! Unfortunately it all looks so perfect that we're afraid to run the forklifts over it."
"I just returned to the Kingston plant and am surprised at how quickly you managed to finish the large bay area. With the fresh paint, it almost looks brand new! Have already received many positive comments. And now for the warehouse area, which should be a lot more challenging, but I have no doubt you will do a similar job. I can confirm now that the shutdown timing is unchanged, so you can move ahead with the planning for that as we discussed. Very impressed so far, keep up the excellent work."
Painters in Kingston, Ontario
Kingston ON is located east of Toronto on the St. Lawrence River in Southern Ontario. It has a diverse population of approximately 125,000 and is home to numerous businesses, industries and manufacturers. The area is serviced by several industrial painting contractors.