Industrial Painting Contractors in Pickering, Ontario
The Induspray industrial painting company is proud to be servicing the area of Pickering, Ontario. Our painting services include large interior and exterior cosmetic restoration, heavy-duty cleaning, and full cosmetic refinishing of working areas in all industrial-type buildings and warehouses. Our licensed contractors are able to complete all projects on time and within budget, and we take on jobs of any size. We are specialized in the painting of Q decks, and are superior at handling larger projects which involve extensive cleaning of dirt, plus the restoration of old commercial buildings, warehouses, manufacturing plants, and other industrial buildings.
Industrial painting and restoration projects:
large industrial buildings, factories
manufacturing facilities, plants
steel structures, bridges, cranes
machinery, manufacturing equipment
secondary containment tanks
smoke stacks, high-heat stacks
chemical processing plants, refineries
sewage & water treatment plants
silos, storage tanks
Commercial painting projects:
large commercial buildings
underground parking garages
warehouses, storage buildings
arenas, entertainment venues
condo/apartment buildings
Painting and refinishing of all surfaces:
walls, cinder block walls, concrete walls
ceilings, metal deck ceilings
steel buildings, structural steel
aluminum & steel siding, metal walls
roofs, metal/steel roofs
window frames, flashing
epoxy floors, epoxy floor coatings
concrete floors, floor lines & markings
PHOTO GALLERY

Surface Preparation & Painting Techniques
A painting job will only turn out properly when the surface underneath it all has been correctly prepared. If there isn't a nice clean, solid surface for coatings or paint to attach to, then it will likely fail which would be detrimental to the finished outcome and correcting it could make a major dent in your budget. Have it done correctly the first time around with Induspray. The preparation of the surface is what makes Induspray a leader in industrial painting, because if it's not done properly the first time, it will never look right nor will it last. There are numerous methods that the surface can be prepared with. We utilize techniques such as detergent cleaning, shot blasting, hot water washing, high pressure washing, steaming, dry ice blasting, and others.
Induspray's painters are highly skilled at their jobs and are trained in all different types of techniques to apply coatings, including airless spray painting. Each scenario requires specific painting techniques. Rather than just slapping on a coat of paint, our painters carefully choose which method should be utilized for the best outcome. Skilled contractors who specialize in industrial-type painting are who we employ at Induspray. We ensure that all work completed in Pickering is done so effectively, and we work on hard-to-reach interior spots and also exterior areas that are high to reach. By utilizing scissor lifts and booms, our painting team can reach any location within your facility, and we always focus on doing the task properly and safely.
Industrial Paint & Coating Systems
There are a wide variety of coatings that are top-notch that we use at Induspray. We determine the best solution based on where it needs to be applied, the consideration of the budget, and we always want to make sure that it will last a long time. Since each scenario is different, some of the paints or coatings we most often use include alkyd paints, acrylic latex paints, high-adhesion coatings, polyurethanes, urethanes, high-adhesive coating, green coatings, dryfall coatings, rust inhibiting coatings, and slip resistant coatings. We ensure that we plan ahead so that we utilize the type of paint or coating that will provide the best outcome, while still being cost-effective for clients. In the circumstance that there is an exterior task needed to be completed, Induspray takes great care when inclement weather is a possibility, plus we always take into consideration the extreme climate of the Pickering, Ontario region when choosing the most appropriate paints and materials.
VIDEO: INDUSTRIAL PAINTING DEMONSTRATION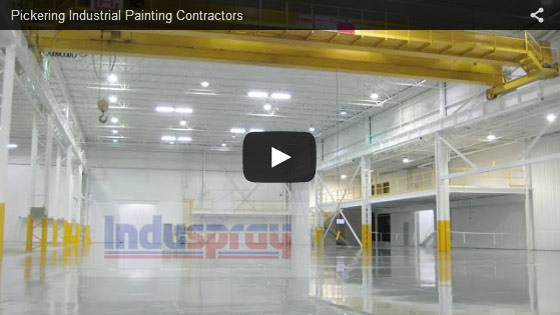 Pickering Industrial Painters / Commercial Painters
Since 1975, Induspray has gained extensive experience, becoming the top choice for customers needing the assistance of expert commercial and industrial painters. Our painting crews can tackle any job thanks to all of our prior experience and broad knowledge. Our painters are skilled, project managers are efficient, and our strong network of suppliers and partners helps to ensure that all our painting projects are completed at the best possible price and on time.
Our Client Listing for Pickering, Ontario
If you have an industrial building, manufacturing plant, factory, warehouse, storage silo/tank or some other type of project in Pickering that needs painting, we are experienced, skilled and ready to complete the task. Induspray has a list of pleased customers who can attest to our work quality and affordable prices. We can provide references, including from these local clients:
Noranco
Wood Wyant
Spraytech Containers
Upper Canada Specialty Hardware
Abba Medix
Probel
Industrial Painting Prices & Costing
We work on millions of square feet of surfaces on an annual basis, using a tremendous amount of painting and coating supplies in the process. Due to this high volume of purchasing, we can negotiate lower costs on our raw materials with our suppliers, and can pass the savings on to our customers.
If you have the need for industrial painters in Pickering, ON and are actively evaluating the costs, alternatives, and reputations of painting companies, be sure to consider Induspray as an option. We'll happily assist you and one of our reps can go over your requirements with you in detail, plus arrange for an on-site appointment as needed. We then follow up with a cost estimate for your project, and also specific, tailored recommendations based upon our expertise. We always provide this as a free-of-charge service and without obligation. Induspray looks forward to assisting you soon.
PICKERING, ONTARIO SERVICE AREA
Our local Pickering service area includes Greater Pickering plus Green River and Whitchurch-Stouffville located in the Durham Region, Ontario.
"The refinishing work on our injection molding machines was excellent. The machines look nearly new now, better that we had expected. We will definitely keep you in mind for our next painting project."
"After a long search, we chose Induspray because they had the best combination of experience, reputation, and pricing. They were priced noticeably lower than competitive quotes, and we're completely satisfied with the work. Would use again if we ever need more painting done."
"Yes I would be happy to recommend Induspray Painting Inc. to anyone that is looking for a painters and a reference for Pickering. It was a pleasure working with you, and perhaps we will meet again. Thank you Andy."
Painters in Pickering, Ontario
Pickering ON is located just east of Toronto in Southern Ontario, adjacent to and often associated with Ajax. It has a population of approximately 100,000 and is home to numerous businesses and industries, including manufacturers plus a nuclear power generating plant. The area is serviced by several industrial/commercial painting contractors.